Thank you to everyone who braved the cold, wet day. We had a wonderful turn out. Pictures will be posted soon!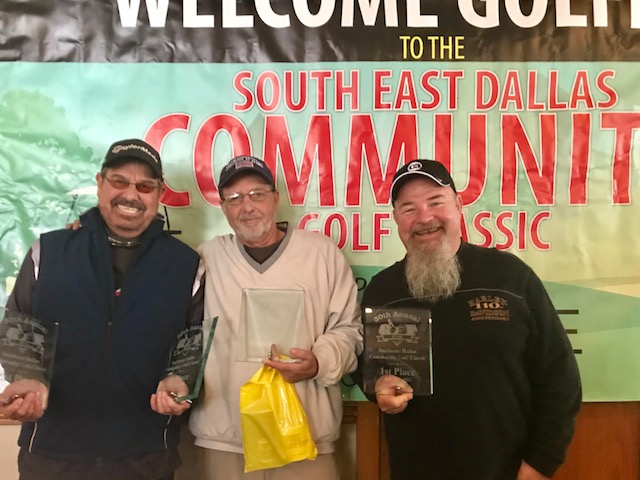 LET'S PAR-TEE LIKE IT'S 1989!

 

We blinked and 30 years flew by! Our 30th Annual Southeast Dallas Community Golf Classic presented by Dal-Tile and co-produced by the Kiwanis Club of Pleasant Grove Foundation and the Southeast Dallas Chamber of Commerce is right around the corner and we're doing the work to ensure we raise the most money ever for our beneficiaries.

 

Our vision is united in a common cause – to improve the quality of life for those that live, work, play, pray and go to school in Southeast Dallas. We do this by uniting the philanthropic and business communities to have a fun day on the golf course and at our various events throughout the year. 

I sincerely hope that you will consider donating to our cause. Your generous gift supports these wonderful organizations and programs doing amazing work in Southeast Dallas:

ü  Jerry's Dream Camp Kiwanis is a Kiwanis Club of Pleasant Grove effort celebrating 25 years of annually sending up to 80 disadvantaged children to summer camp at no cost to their families. Approximately 1,000 children have attended camp at Hidden Acres over the years.  A transformative experience for many!

ü  Since 1998, the Southeast Dallas Chamber of Commerce Scholarship Fund awards scholarships to deserving high school seniors from WW Samuell, H Grady Spruce, Skyline, A+ Academy and Inspired Vision Academy high schools. 114 students and $124,000 in scholarships to date!  We lift up our own!

ü  The Pleasant Grove Food Pantry, a North Texas Food Bank member organization, passionately pursues a hunger-free community in Pleasant Grove and surrounding areas.  We support their efforts!

ü  Books for Ownership program helps achieve reading proficiency in 6 area Dallas ISD Elementary Schools with free book distributions and theme filled activities. Reading proficiency = better education!

 

Please be a sponsor or make a donation to make this year's Golf Classic the most successful ever! Feel free to contact our Chamber office at (214) 398-9590 or [email protected] or you may contact me directly at (214) 275-1205.

 

Thank you for being an advocate for the families of Southeast Dallas.

 

Warm regards,

 

Lance Prothro

Chairman, Southeast Dallas Community Golf Classic

 

Southeast Dallas Community Golf Classic

Ticket and Donation Information

 

 *** Please ask about our on course promotional opportunity! ***

 T

Ticket Pricing
Individual Player - $150

Team of 4 - $600
Donation Options
Silent Auction –

Travel, gift certificates or prize valued at more than $50.

Door Prizes –

Gift certificates and other items valued at more than $10.

Goody Bag Item – 200 items with your company logo
Friday, October 25, 2019
Check-In and breakfast begin at 7:00 a.m.     Shotgun Start at 8:00 a.m.
 Awards luncheon / presentation immediately after golf.