New Members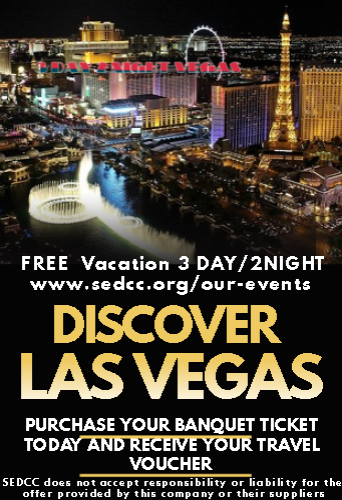 SEDCC Thanks you for your donation, we appreciate your support. Once you purhcase your tickets/table to our Annual Banquet, we have acquired corporate sponsorship from a Vacations Company that will help us by rewarding our donors. All donors will receive a 3 day 2 night stay in their choice of Las Vegas or Orlando, a bonus stay in their choice of 30 popular resort destinations plus a free Guest Membership to a private members only travel site.
You Will Receive
2 Night Stay in Your Choice of Las Vegas or Orlando YOUR FIRST STAY IS ON US!
This stay includes a $100 Dining Advantage Card.
A Bonus Trip Of 2 Nights in Your Choice Of 30 Popular Resort Destinations Bonus Destinations Include: Bahamas, Cancun, Daytona Beach, Denver, Jamaica, Miami, Myrtle Beach, Oahu, and More!
Free Guest Membership to A private members only site where you are guaranteed the lowest prices on over 700,000 3, 4, and 5-star hotels around the world or double the difference back in cash!