COVID-19 Reported Cases in Dallas County
195,728
COVID-19 tests
reported to the City**
Tests reported negative**
Last updated at 6 p.m. on July 28, 2020
Donate plasma to help others recover Recovered from COVID-19? Donate plasma. • Healthcare experts in Dallas County are exploring the use of plasma as a possible therapy. • Plasma is a part of the blood and can be collected just as any blood donation. • Plasma donated from individuals who have recovered from COVID-19 might help boost immunity or recovery for those who are currently fighting the disease. • Learn more about the process, criteria and how to donate from our partners at Carter BloodCare. • In addition, all blood donors can get a free COVID-19 antibody test with donations at Carter BloodCare. The area's blood supply is critically low. Learn more about how to donate blood and save lives. Parkland response to COVID-19 Get an inside look at how Parkland is battling COVID-19 with innovation and compassion • Parkland CEO Fred Cerise, MD, MPH, will join KERA's CEO to discuss how Parkland's COVID-19 Tactical Care Unit is using innovative protocols to improve patient outcomes and protect teams of caregivers. • Dr. Cerise will also discuss Parkland's plans to expand services for a growing number of Dallas County residents in need. • The interview will air at 7:30 p.m. on July 31, at 10:30 a.m. on August 2 and at 10 p.m. on August 3 on KERA-TV. The episode can also be heard at 5 p.m. on August 2 on KER-FM 90.1. Stream the episode on www.kera.org/ceo. Stopping the spread Caring for someone with COVID-19 at home • When caring for someone at home with COVID-19, it's important to care them in a way that doesn't get you and other family members sick. • Watch this Parkland video for important instructions such as: o Don't allow visitors o Don't share personal items like mobile phones, dishes, towels and sheets. o Use a mask and gloves when near the patient providing care. o Wash your hands every time you have contact with the patient. o Clean often. o Use separate hampers for dirty laundry and wash on highest temperature settings. o Monitor your own health and symptoms. So you got tested. Now what? • Depending on the type of test and the location, your test result can take from one to approximately 10 days. • For Parkland patients, the fastest way to view results is through our online portal, MyChart. If you provided an active cell phone, you will receive a text when your results are ready toview. You will also receive a phone call and a copy of your results in the mail. • Please follow these steps until you know for sure if you are positive for COVID-19. o If you are sick, isolate at home while you are waiting for your results. o If you do not feel sick, continue to follow the safety steps outlined below. • While you wait: o Wash your hands often with soap and water for at least 20 seconds. Use hand sanitizer with 60% alcohol if you don't have soap and water. o Do not spend time with people who are sick. o Stay at least 6 feet from others, even if you are feeling well. o Do not touch your eyes, nose and mouth if you haven't washed your hands o Clean all "high-touch" surfaces every day. These surfaces include counters, tabletops, doorknobs, bathroom fixtures, toilets, phones, keyboards, tablets, and bedside tables. o Cover your mouth and nose with a tissue when you cough or sneeze or use the inside of your elbow. o Wear a mask or face covering when you are around others. • Download the free tip sheet in English or Spanish. Stay safe, stay home continues • Hear more about how Texans can work together to slow the spread of COVID-19. Dr. Francisco Cigarroa of the University of Texas Health Science Center at San Antonio says to follow simple steps to protect yourself and your love ones: wearing a mask, regular hand washing, staying home when possible, and socially distancing from others. Additional resources and support Resources for business • Dallas County offers free "mask required" signs in English and Spanish available for download for any business to post as needed. • Also available for free download is a sample health and safety policy. Businesses in Dallas County that serve the public must have a health and safety policy. • Target offers a free downloadable toolkit for retail businesses that includes customer updates, signage and other safety communications ideas. Download the kit. • Care and support for children • This meal finder map from the Texas Education Agency connects students with meals. • Texas will provide $200 million for the purchase of devices and home internet solutions to enable remote learning during the COVID-19 pandemic for Texas students that lack connectivity. The Texas Education Agency will purchase and distribute devices, hotspots, routers, and more based on specific needs identified by local districts. Learn more. • Parents and people who work with families and children can join a free webinar called "Keeping Infants and Children Healthy During the COVID-19 Pandemic." o Presenters will be from Health and Human Services Commission programs, including the Office of Disability Prevention for Children, Early Childhood Intervention, Texas WIC and the Texas Ten Step Program. o Registerto attend the webinar on July 29 from 10-11:15 a.m. After registering, you will receive a confirmation email explaining how to join the webinar. For questions, email Jay Smith at [email protected] call 512-438-4715. Community information • Texas Health and Human Services Commission (HHSC) will extend automatic renewals for Supplemental Nutrition Assistance Program (SNAP) and temporarily waive interview requirements. The automatic renewals will extend the benefits for households who have not yet turned in their renewal information for July and August. Texans in need can apply for benefits, including SNAP and Medicaid, at YourTexasBenefits.com. • Texas Health and Human Services can help connect you with needed mental health services during this difficult time. Learn more about mental health resources and support. • DART is designing an entirely new bus network and seeking community input to improve its service in all 13 cities that collect sales taxes to fund DART services. Let your voice be heard. Take the 10-minute survey in English or Spanish. You could be one of 10 people to win a $100 GoPass Tap card.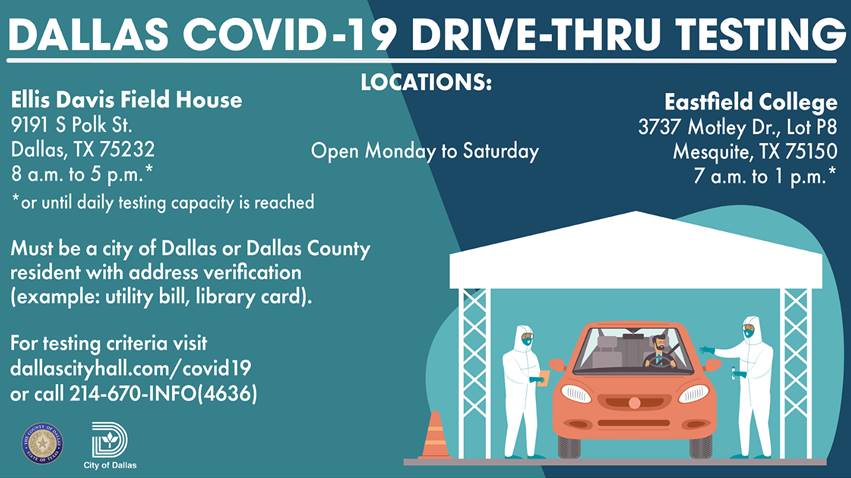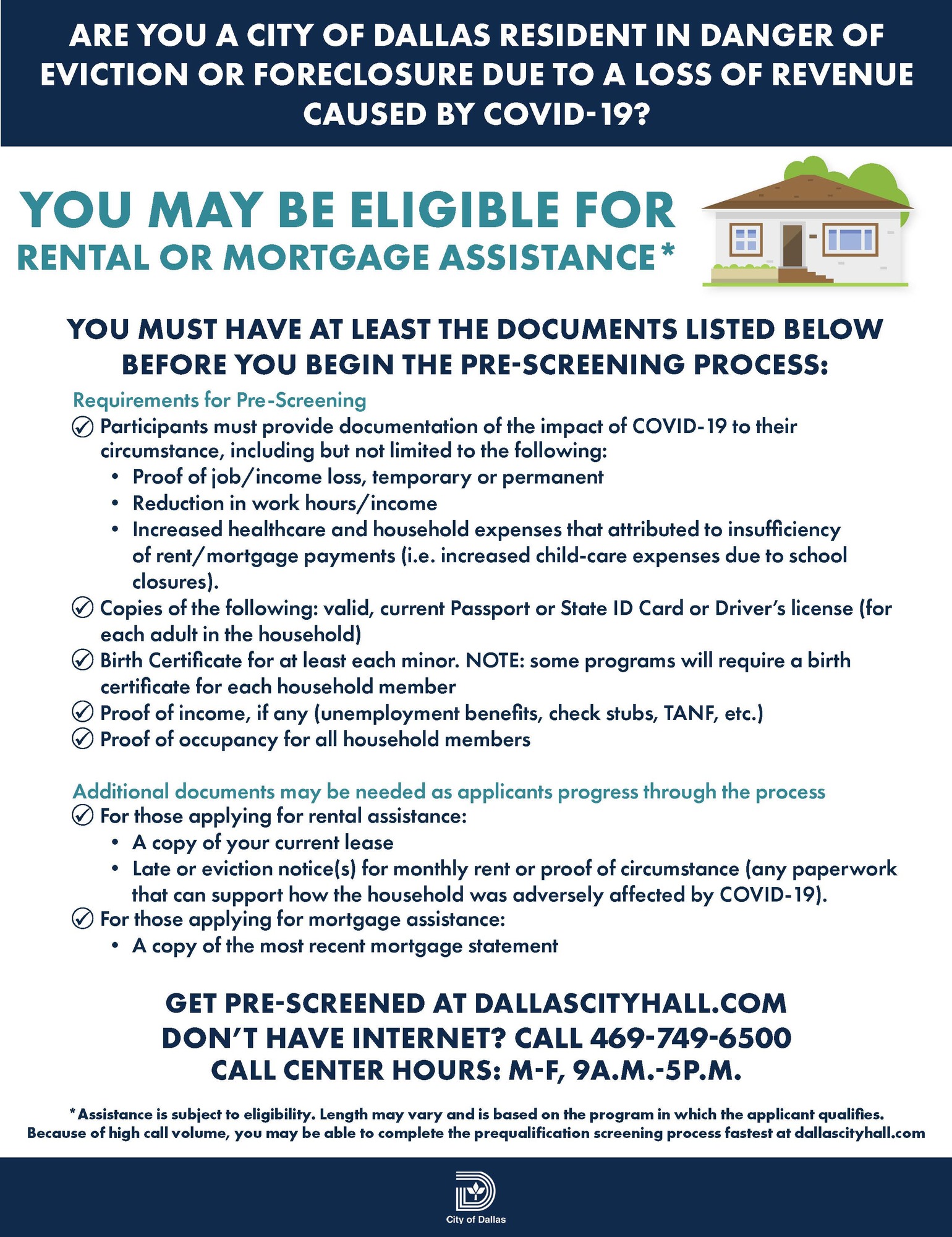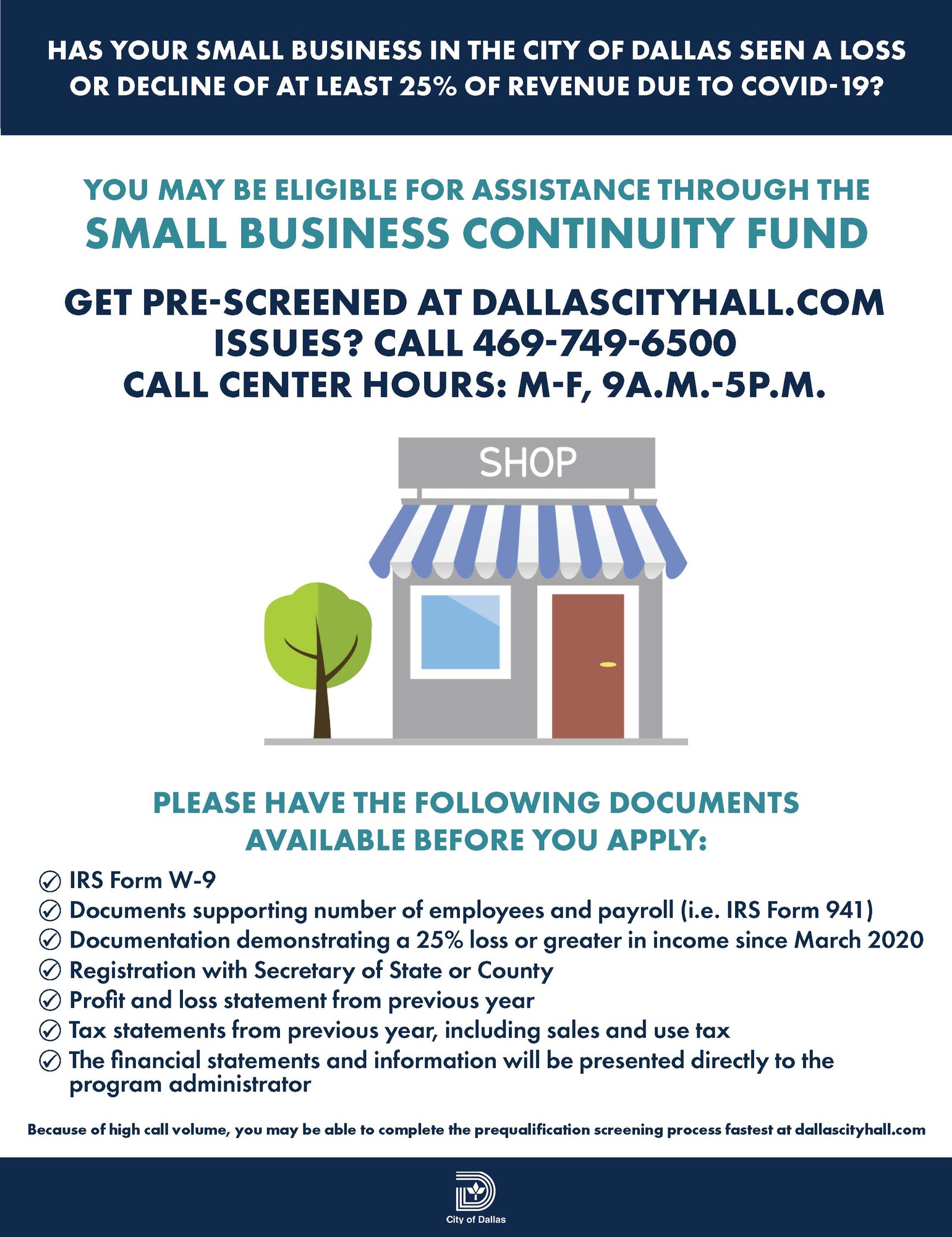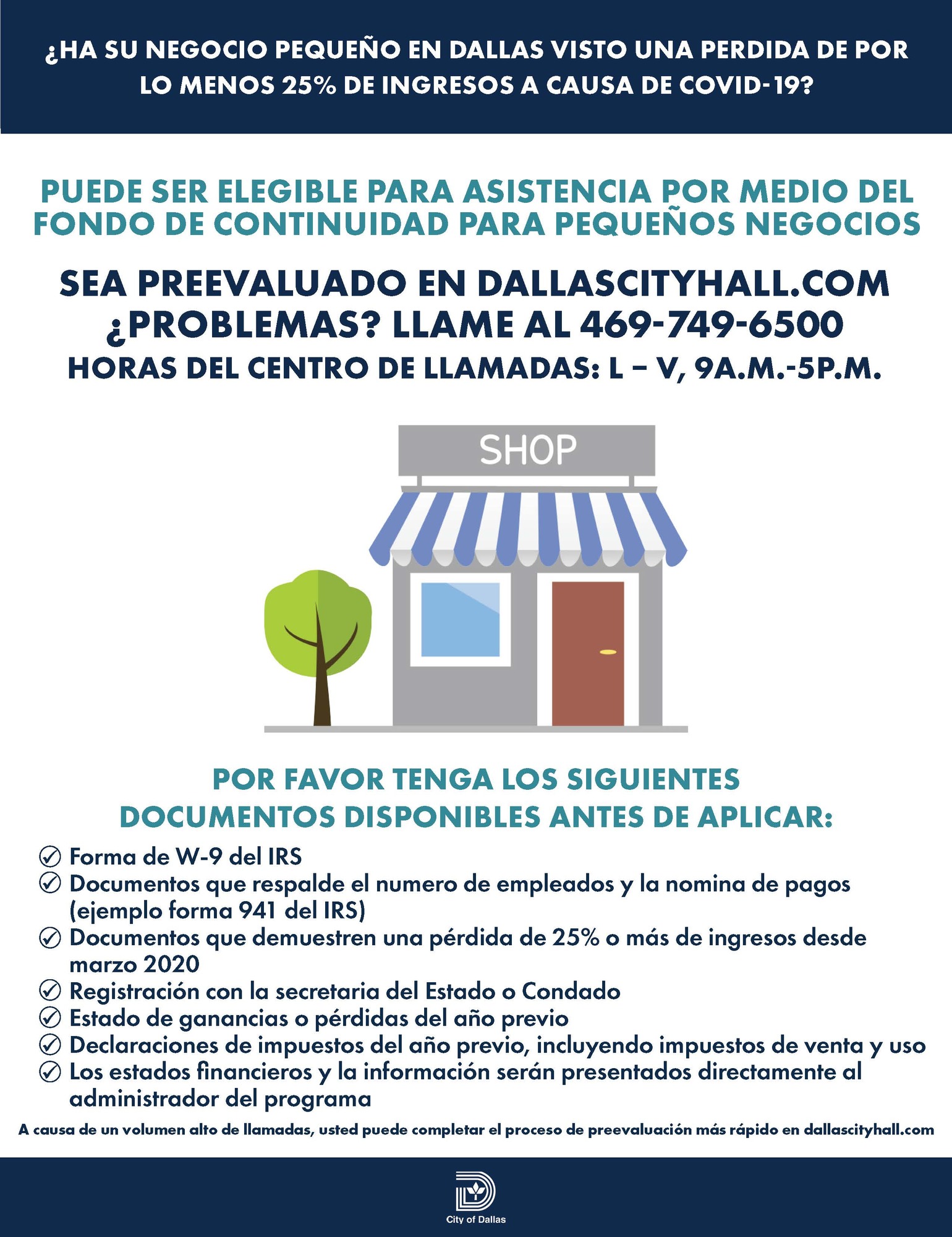 City of Dallas COVID-19 relief programs launch Monday, May 4.

Shared From: Michael A. Mendoza
Strategy and Special Initiatives Officer




City of Dallas | DallasCityNews.net
Hello All,
Seems like weeks go by in a single day.  Grateful for your time is support of our small businesses.  Sending a quick update on activities.  We continue coordination with Goldman Sachs on their PPP fund ($5million for Dallas and administered by the CDFI LiftFund); and engagement with The DEC and the Communities Foundation of Texas for development of an additional Small Business Relief Fund.   I've pasted descriptions of two items of triage that were recently passed at City Council.  And a couple of sites/services that we have been collaborating on and promoting with The DEC.   Let's begin talking about ideas you all may have on offering guidance and building momentum for recovery.
·        Mortgage/Rental Assistance
Adopted by City Council on April 22.  The Mortgage and Rental Assistance program passed by Council will offer $6.1 million in rental and mortgage aid. Combined with services and programs that already exist within the city, $13.7 million is available. Assistance will provide up to $1,500 for a maximum of three months per eligible household. To qualify for the pre-screening process, applicants must be City of Dallas residents who lost their jobs or were furloughed due to COVID-19. The Mortgage and Rental Assistance program is a collaboration between the Office of Community Care and the Office of Housing and Neighborhood Revitalization. The program is expected to open during the first week of May.
·        Small Business Continuity Fund
Adopted by City Council on April 22.  The Office of Economic Development is launching a $5 million Small Business Continuity Fund. The fund will provide up to $10,000 in grants and up to $50,000 in low-cost loans to small businesses affected by COVID-19. The businesses must be able to prove they were in operation for a minimum of six months prior to March 16, 2020. Additionally, they must be low to moderate income (LMI) microbusiness owners and/or businesses that employ (or previously employed) at least 51% LMI workers. The goal of the fund is to ensure continued operations of small businesses and job retention by those businesses. The application is expected to go live in May for grants and loans to begin in June.
·        Fast Start Mentoring Program
Established  through the Dallas Entrepreneurial Center (The DEC).  The Fast Start Mentoring site activates DEC's mentoring network to match small businesses and entrepreneurs with mentors offering guidance on negotiating, recovering and expanding in the trepid wake of COVID-19.
·        Let's Grow North Texas Businesses
A resource page for businesses affected by COVID-19.  This page is curated by The DEC with contributions from business organizations and chambers of commerce from across North Texas. https://letsgrowntxbusiness.com/
·        City of Dallas Small Business Resource Page
The City of Dallas is closely monitoring the impact of COVID-19 on the small business community, working closely with our local, state and federal partners.  http://dallasecodev.org/562/COVID-19-Info-for-Small-Businesses
·        Small Business COVID-19 Survey
Responses were used to inform criteria for the Small Business Continuity Fund.  600+ respondents.  Survey Results
Michael A. Mendoza
Strategy and Special Initiatives Officer
City of Dallas | DallasCityNews.net
City Manager's Office
1500 Marilla St., 4EN
Dallas, TX 75201
M:  214-997-3870 |  O: 214-670-3390
[email protected]
*****Testing: Dallas is getting another testing site Friday at Walgreens. The new testing site will be a 15-minute drive through. The address is 2060 S. Buckner Blvd. Dallas, TX 75217. (KTVT)
SOURCE – DALLAS MAZAZINE
In our SEDCC website blog, you will find a list of resources updated as resources are added, regarding finances and COVID-19 topics such as unemployment, paying rent and mortgages, student loans, utilities, food assistance, resources for businesses and more. 
Please feel free to share this with your friends, family, coworkers, community, or anyone else who could use it. If you have additional information you wish to share with your neighbors and community, please do not hesitate to contact City of Dallas at [email protected]. or find more information here www.DallasCountyCOVID.org .
Additionally, VisitDallas and Uptown Dallas and SEDCC have compiled a list to feature Dallas restaurants and businesses who are still operating, offering delivery or curbside service. 
Please promote #TakeOutTuesday in your neighborhoods and networks. Encourage people to order take out or delivery from local restaurants every Tuesday! Follow their Facebook @TakeOutTues
We continue to provide information at the City's dedicated COVID-19 website here. Dallas County also has valuable information here.
The Small Business Owner's Guide to the CARES Act  The programs and initiatives in the Coronavirus Aid, Relief, and Economic Security (CARES) Act that was just passed by Congress are intended to assist business owners with whatever needs they have right now. When implemented, there will be many new resources available for small businesses, as well as certain nonprofits and other employers. This guide provides information about the major programs and initiatives that will soon be available from the Small Business Administration (SBA) to address these needs, as well as some additional tax provisions that are outside the scope of SBA.  To keep up to date on when these programs become available, please stay in contact with your local Small Business Administration (SBA) District Office, which you can locate here.
Struggling to get started? The following questions might help point you in the right direction. Do you need: • Capital to cover the cost of retaining employees? Then the Paycheck Protection Program might be right for you.  • A quick infusion of a smaller amount of cash to cover you right now? You might want to look into an Emergency Economic Injury Grant. • To ease your fears about keeping up with payments on your current or potential SBA loan? The Small Business Debt Relief Program could help. • Just some quality, free counseling to help you navigate this uncertain economic time? The resource partners might be your best bet.
 
There are two COVID-19 testing sites in Dallas open from 8am to 8 p.m. or when daily test kit availability runs out. Criteria for testing sites is as follows: shortness of breath, cough, must show a temperature of 99.6 or higher. The sites are located at: American Airlines Center, Parking Lot E, 2500 Victory Plaza and Ellis Davis Field House, 9191 S Polk St.
DFW COVID-19 Regional Summary Dashboard: A dashboard of total cases of COVID-19, new cases, deaths, and 311 COVID-19 calls can be viewed here.
Unemployment and Workers' Comp
Financial Assistance
The City of Dallas Rental Assistance Social Services Financial Assistance
Provides emergency assistance to individuals and families who have experienced a temporary financial crisis. The appointment lines are open Monday through Friday, from 9:00 a.m. to 4:00 p.m.

Rental assistance to persons at-risk of homelessness and who are low-income (below 30% of the area median income).
Assistance with utility bills (electric, gas and water) up to once per year (with exceptions for "blitz" events determined by funder) in an amount not to exceed $300 available for customers of Reliant Energy, TXU and ATMOS Energy. Additionally, support is administered through the Dallas Water Share.

Help Line Contacts and Appointments

Martin Luther King, Jr. Community Center Social Services - 214-670-8416
West Dallas Multipurpose Center Social Services - 214-670-6530
Trouble Paying Rent or Mortgage
In summary, per guidance from a Dallas County Justice of the Peace:

ALL Eviction cases are currently postponed and continued for 60 days
 Residential or Commercial;
 Currently pending or filed within the 60 day period
o   ALL Writs of Possession are currently postponed and continued for 60 days
 Residential or Commercial;
 Previously requested or requested within the 60-day period
o   Lockouts are not addressed in any current emergency order – Texas Property Code, Chapters 92 and 93, control
 Residential lockout tenants must be provided a key upon request whether rent is brought current or not;
 Commercial lockout tenants must only be provided a key when the rent is NOT delinquent– provided that all other requirements of the lockout were in accordance with the Texas Property Code
o   Writs of Re-Entry are not addressed in any current order – Texas Property Code, Chapters 92 and 93, control
 Residential or Commercial tenants that are illegally locked out may seek relief from the Justice of the Peace in the precinct in which the property is located
 Residential landlords may be ordered to provide the tenant a key and the Court has authority to enforce its order;
 Commercial landlords may only be ordered provide a tenant with a key when the rent is NOT delinquent – provided that all other requirements of the lockout were in accordance with the Texas Property Code
Dallas County Judge Clay Jenkins' Order states that Dallas County Justices of the Peace cannot proceed with evictions until May 18, 2020 (date subject to change). If you have concerns, volunteer attorneys are on stand-by to assist. Send an email to:

[email protected]

, and a volunteer lawyer will get back with you. Include your name, contact and landlord information, and other pertinent facts. The service is free.
The federal government announced they are suspending all HUD foreclosures and evictions for 60 days.
If you don't have enough money to pay, contact your lender or landlord immediately. Help includes:
If you are a Dallas Housing Authority client, please immediately report any loss of income in order to reduce your portion of rent and inspections will be restricted to health and safety only.
Texas Department of Housing and Community Affairs Foreclosure Prevention 1-888-995-HOPE(4673)
Martin Luther King, Jr. Community Center Social Services - 214-670-8416
West Dallas Multipurpose Center Social Services - 214-670-6530
Texas Attorney General Consumer Protection or call 800-621-0508
Information from the City of Dallas on Housing and Urban Development COVID-19 Funding Allocation can be found here.
The Entrepreneurship and Community Development Clinic at The University of Texas School of Law has launched a new website that tracks housing policies adopted by the federal government, State of Texas, and local jurisdictions to help Texas residents stay in their homes during the COVID-19 pandemic and accompanying financial crisis. The site covers renter protections, foreclosure protections, and utility access protections.
The City of Dallas Fair Housing and Human Rights Office has information here.
Homeless Shelter and Residential Programs
The City of Dallas Office of Homeless Solutions launched the effort of moving persons into hotel rooms. OHS' priority groups are:

Persons experiencing homelessness, in need of quarantine
Persons in shelters and on the "Priority Housing List"

OHS will coordinate continued service for these guests. OHS will work with partners to identify and secure rental property and provide assistance for a period of up to 6 months for guest ready for housing. This process will serve the purposes of freeing up beds in shelters and getting people into their own home. Long term case management will be provided to anyone getting placed in a new home.
Information on The Bridge Homeless Recovery Center can be found here.
Information on Austin Street Center can be found here.
Information on Family Gateway can be found here.
Paying Utilities
The Public Utilities Commission of Texas voted Thursday 3/26 to temporarily prevent utility companies from disconnecting power and water services to residents financially affected by the Covid-19 pandemic. Residents must still pay their bills via a deferred payment plan (residents need to contact their service provider for customer assistance).
Exelon brands (Constellation, Atlantic City Energy, BGE, ComEd, Delmarva Power, PECO) have suspended service disconnections and will waive late payment charges until at least May 1.Exelron has also committed to donating $1.15 million to local and national COVID-19 relief efforts.
Vistra Energy brands (TXU, Ambit, Tri-Eagle) is waiving late fees, extending payment due dates with no down payment required, and reducing down payments and deferring balances over five equal installments. TXU customers can also receive additional bill-payment assistance through its TXU Energy AidSM program.
NRG brands (Reliant, Green Mountain, Cirro, Stream, XOOM, Discount Power) is suspending disconnections for non-payment until April 3.
Atmos and Dallas Water Utilities have suspended disconnections at this time.
Charter Communications is offering free access to Spectrum Broadband and Wi-Fi for 60 days for new K-12 and College Student households. Residents should call: 1-844-488-8395. Charter is also working with school districts to ensure that communication is provided about the free wi-fi; Charter continues to offer Spectrum Assist for households without school-aged children; Charter is also opening its Wi-Fi hotspots for public use.
Food Assistance and Donation
Here is a list of open food pantries inclusive of hours.
North Texas Food Bank has shifted to box distribution model with partner agencies. Food4Kids and School Pantry programs remain fully functional, and they are partnering with the City to deliver snack/hydration kits to the homeless.
Dallas County Health and Human Services Older Adult Services Program is currently providing meals delivered to homebound seniors. There is a drive-thru for hot meal pick-up service set up at each senior center location. Seniors needing these resources can call 214-819-1860 to enroll.
Crossroads Community Services food pantry details can be found here.
Meals will be provided to all children at most district middle and high schools and will be distributed twice a week, on Monday and Thursday between 10 AM and 1 PM. On Monday you will receive Breakfast, Lunch, and Supper for Monday, Tuesday, and Wednesday. Thursday will have Breakfast, Lunch, and Supper for the rest of the week, including Saturday. For pick up locations and menus, visit this link.
KIPP charter schools providing healthy, ready-to-heat breakfast and lunch to any student 19 or younger in our communities, not just to students enrolled at a KIPP Texas campus. Our meal pickup details are all available through the Texas Education Agency's new meal finder website.
The City of Dallas WIC Program will be offering WIC benefits by phone only from  March 21, 2020 to April 3, 2020. Please contact us using one of the following:
Pet food resource - any family, community organization, or rescue group who needs help with dog food; please feel free to reach out to Ninfa Beltran with the SPCA at 

[email protected]

. She will be coordinating and facilitating the distribution of dog food.
Insurance Issues
The Texas Department of Insurance has resources and information availablefor consumers who have insurance related questions.
For Businesses
The City of Dallas has issued a Second Amended Emergency Regulation Order to prevent the spread of COVID-19. According to section three of the Second Amended Emergency Regulation Order, businesses impacted by COVID-19 must visibly post the Second Amended Emergency Regulation Order on their facility and provide a copy to their employees upon request.
The City of Dallas Department of Code Compliance will issue notices of violations for businesses that do not comply with the Second Amended Emergency Regulation Order.
The Stay Home Stay Safe Order permits restaurants and microbreweries, micro-distilleries or wineries to operate for takeout and drive-in or drive-thru only.
The City of Dallas Office of Economic Development has created aweb page with information for small businesses.
The State of Texas has officially declared a state of emergency. Businesses are encouraged to fill out Economic Injury worksheetsto prepare for distribution of disaster relief funds.
A loan program has been established by the Small Business Administration, specifically for those impacted by the coronavirus.
Facebook also has a $100 million Small Grants Program accessiblehere.
For businesses struggling to pay the full amount of sales taxes they collected in February, theTexas Comptroller's Office is offering assistance in the form of short-term payment agreements and, in most instances, waivers of penalties and interest. We ask that you contact ourEnforcement Hotline at 800-252-8880 to learn about your options for remaining in compliance and avoiding interest and late fees on taxes due.
The Texas Restaurant Association has launched a restaurant relief fund.
Businesses and residents with questions regarding essential status can email

[email protected]

.
TWU's Center for Women Entrepreneurs has created an AssistHer Emergency Relief Grant.
Mental Health Resources
COVID-19 Mental Health Articles
Domestic Violence Survivor Resources
Student Loans Deferment
The US Department of Education has suspended federal student loan payments and waived interest. The Office of Federal Student Aid has specific details.
Childcare Resources
The Texas Workforce Commission's subsidized childcare program is making changes to their requirements in light of the COVID-19 crisis. Please check their website regularly for announcements coming soon.
Due to COVID-19, YMCA branches are currently closed; however, they continue to offer limited childcare programming on a daily basis, supporting the childcare needs of first responders, medical professionals, government officials, and those that must continue their work in this challenging time. This care will be offered until further notice, at 11 YMCA branches across the Dallas Metroplex, in accordance to state guidelines.
Dallas Afterschool has moved all training and support to a virtual mode, and is now offering  virtual tutoring. For more information, email 

[email protected]

.
Educational Resources
Senior Resources
Employment Resources
Workforce Solutions of Greater Dallas has resources for job seekers. Those seeking employment can register at workintexas.com.
The Dallas Regional Chamber has launched a virtual job board that offers listings to individuals who need leads for in-demand jobs; access to online courses to upskill into high-demand, well-paying jobs; childcare resources for parents involved in essential work; and links to help workers to file for unemployment claims.
You can email Goodwill at 

[email protected]

 with your name, city/zip code, contact number and any additional information. A Goodwill Job Connection Center Manager or Specialist will contact you directly and set up an appointment for virtual employment services. You can also contact a Job Connection Center by phone at the location nearest you:
o   3020 N. Westmoreland Rd, Dallas, TX 75212: 214-638-2800 x185
o   1661 E. Northwest Hwy., Garland, TX 75041: 214-227-5549
o   919 W. Main Street, Lewisville, TX 75067: 972-436-3681
HIV/AIDS Resources
Faith Community Resources
Texas Baptists is a statewide faith-based non-profit with about 5,300 affiliated churches across Texas and beyond. Our services primarily are offered to leaders of affiliated churches seeking to navigate the pandemic. Our COVID-19 Response page is here. We would be interested in learning how churches could volunteer their parking lots as drive through testing sites, or their facilities as makeshift hospitals if needed. Resources include:

Relief grants to bivocational and small church pastors
Resources on multimedia streaming, online giving and other church administration
Free downloads of adult and child Bible study materials
Disaster relief through our ministry partner TBM.

Jewish Family Services has a list of resources and services here: JFS COVID-19 Updates
Faith in Texas has a list of resources here: COVID-19 Resources 
Catholic Charities of Dallas has a list of resources here, including community food pantries, disaster relief services, immigration legal services, and refugee services.
Other Resources
How Can You Help?
Meals on Wheels needs volunteers.
Dallas ISD needs volunteers to assist their Food & Child Nutrition Services team with meal distribution at school sites.
Go to dallasisd.voly.org; register as a volunteer and complete the brief online volunteer orientation.
Send an email to 

[email protected]

 to indicate your interest in helping with meal distribution.
The North Texas Food Bank needs volunteers.
Carter BloodCare and other blood banks are experiencing shortages. Consider donating.
Jewish Family Service (JFS) have established the S.H.E.F. Emergency Assistance Fund. The S.H.E.F. Fund is a non-profit effort established to provide "bridge" support to as many restaurant hourly workers as possible throughout North Texas. JFS will be providing case management assistance and connecting these workers to eligible benefits, employment opportunities, counseling and other resources as they navigate this crisis. If interested, you can donate to this fund at www.jfsdallas.org/donate and in the Additional Comments section type "SHEF Fund" or you can send a check with the same notation to JFS at 5402 Arapaho Road Dallas, Texas 75248. 
If you would like to assist with providing Protective Personal Equipment (PPE):
Submit your information on this website - https://www.helpdallascounty.org/. Medical providers and cities will have access to this comprehensive list of providers so they can reach out to get what they need. This will likely be the fastest way to get your information to the people who need it most.

Send an email to 

[email protected]

 and include the information you've sent here.
If a medical provider reaches out in search of supplies, direct them to

[email protected]

.
Protect Yourself Financially from the Coronavirus
Information from the Consumer Financial Protection Bureau.
Job Interrupted —A To-Do List for Tough Times
Information from the Financial Industry Regulatory Authority.
Financial Peace of Mind in the Age of Coronavirus
Information from the Financial Industry Regulatory Authority.
Avoiding Coronavirus Scams
Information from the Federal Trade Commission
The Department of Health and Human Services and the National Institute of Health have made these grant opportunities available:
Grant Opportunities for Non-Profits
The Communities Foundation will announce a collaborative fund to provide grants for non-profits engaged in the Covid-19 response. The North Texas Cares Fund is for non-profit service providers ONLY who are responding to the Covid-19 crisis. Applications will be accepted on a rolling basis and can be submitted via www.NorthTexasCares.org.Criteria for eligibility and consideration includes:

Must be 501c3 organization Must provide services in the North Texas area
Must provide services that address immediate response or long-term relief efforts in response to COVID-19
Requests need to focus on first responders and/or support for vulnerable populations– (examples could include seniors, children, homeless, low-income)
Cultural Institution Resources
Dallas Area Cultural Advocacy Coalition compiled the below resources:
Texas Unemployment Benefits Information
Many Texans have lost their jobs due to COVID-19, and unemployment benefits are available for those Texans. Any employee who was laid-off without pay, independent contractor, self-employed, gig worker, individual who did not report wages, and individual without sufficient wages may be eligible for unemployment. 
To apply for unemployment benefits through the Texas Workforce Commission visit  ui.texasworkforce.org or call the Tele-Center at 800-939- 6631. 
Feel free to contact my office for any questions or assistance via phone at 214-371-3330 or [email protected]
Always here to serve!